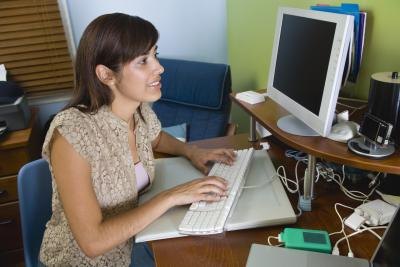 by Contributing Writer

Skype is a peer-to-peer client for video and audio communication. One of the advantages to using the program is its low requirement for data transfers. Skype works on mobile devices, desktop computers (including Macs) and tablets too. If you're experiencing problems making or receiving calls, it could be an issue with your Internet connection. Downloads have been known to slow connections speeds as bandwidth is shared between activities. Troubleshoot your connection, test your upload and download speeds, and then restart Skype to fix the issue.
Reset Wi-Fi Router
Step 1
Unplug your Wi-Fi router for 15 seconds.
Step 2
Reconnect the power source to your Wi-Fi router after the 15 seconds have elapsed. Be sure to check all wired connections coming into your router, especially the connection from modem to router.
Step 3
Wait for your router to recognize any wireless devices you are attempting to use Skype from. When the device reconnects, attempt your Skype call again to see if quality has improved.
Run a Speed Test
Step 1
Visit the Speedtest website in the browser of your choice.
Step 2
Click "Begin Test." The Speedtest website will locate a server close to you and measure the download and upload speeds of your Internet connection. Skype requires a minimum of 30kbps, with a recommended speed of 100kbps. If your connection speed measures in megabytes, you should be able to run Skype at a reasonable quality.
Step 3
Restart Skype and attempt your call again to see if quality has improved.
Pause Downloads
Step 1
Find the "Active Downloads" list. For Internet Explorer, this list is available by clicking the settings cog wheel followed by "Downloads." You can find your "Downloads" from the "Firefox" menu in Firefox. In Chrome, click the Settings icon and then click "Downloads" to view the downloads.
Step 2
Select your downloads and right-click. Select "Pause" to pause your downloads.
Step 3
Restart Skype and attempt your call again to see if quality has improved.
Warning
If the speed test reveals an abnormally slow connection, you should contact your Internet service provider immediately as maintenance may be required.
Photo Credits
Thinkstock Images/Comstock/Getty Images