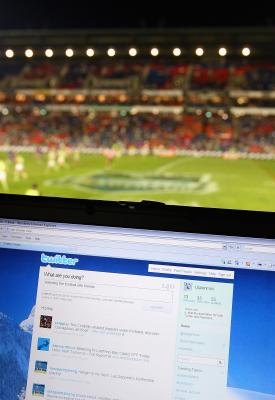 by Contributing Writer
On Twitter, the hash symbol or number sign (#) is used in front of words or short phrases to create hashtags so posts can be easily tracked. Although you're free to use hashtags for anything you want, most people use them to keep track of conversations or to make their posts visible for anyone looking for a specific topic. Hashtags are often visible in the Trending Topics section of the Twitter home page, but in most cases you need to do a search for a hashtag to make it appear in your Twitter stream.
Showing a Hashtag in Your Twitter Stream
Step 1
Sign in to Twitter in a new Web browser window and click the "Search" field at the top of the page.
Step 2
Type the hashtag symbol in the search field, followed by the word or phrase you want to see, such as "#writechat" or "#superbowl." Hashtags contain no spaces, nor are they case sensitive. Press "Enter" on your keyboard. A list of the top posts using that hashtag are displayed in your stream.
Step 3
Click the "All" link above the stream to see all of the posts using that hashtag. Alternatively, click the "People You Follow" link to filter the search results to people you follow.
Saving a Hashtag Stream
Step 1
Click the "Gear" button located to the right of the "Results for #hashtag" title at the top of the stream. A drop-down menu opens.
Step 2
Select "Save Search" from the drop-down menu.
Step 3
Click on the "Search" field at any time. Your saved hashtag search is displayed. Click it to see the latest tweets using that hashtag.
Tip
Twitter limits you to 25 saved searches. To remove a saved search, select it from the "Search" field and then select "Remove Saved Search" from the same gear icon you used to save it.
Photo Credits
Cameron Spencer/Getty Images News/Getty Images