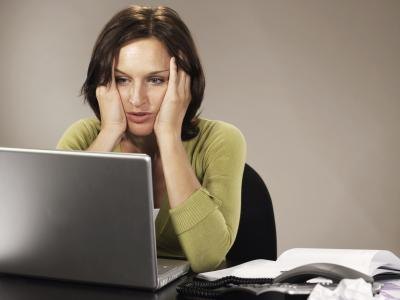 by Contributing Writer

Targeted ads, found on a number of popular websites, help pay for the cost of the domain and also help visitors find relevant information or products. Not all ads are benign, however; some can be distracting and intrusive -- as in the case of pop-ups -- while others can be the result of a malware infection. Computer manufacturers and computer vendors also load "original equipment manufacturer software" -- colloquially referred to as "bloatware" -- to new PCs, but sometimes these programs consume valuable resources and display unwanted ads, despite having minimal value. Fortunately, Windows 8 includes solutions to help you combat these annoyances.
Disable Pop-Ups
Step 1
Open Mozilla Firefox, click "Firefox" on the title bar and then select "Options" from the drop-down menu. Click the "Content" tab, check "Block pop-up windows" and then click "OK."
Step 2
Open Internet Explorer, click the gear icon on the toolbar to open Tools and then click "Internet options." Check "Turn on Pop-up Blocker" on the Privacy tab and then click "OK."
Step 3
Open Google Chrome, click the Chrome Menu and then click "Settings." Click the "Show advanced settings" link, click "Content settings" under Privacy and then select "Do not allow any site to show pop-ups." Click "OK."
Run a Virus Scan
Step 1
Press "Windows-C" or point to the top right side of the screen and then choose "Search" from the Charms bar.
Step 2
Click the "Apps" tab, enter "defender" into the Search field and then click "Windows Defender."
Step 3
Select "Full" under Scan Options on the Home tab and then click "Scan Now" to check for and remove malware.
Remove Bloatware
Step 1
Press "Windows-Q" to open the Apps screen and browse through the list of Metro and desktop apps.
Step 2
Right-click the offending software and select "Uninstall" from the context menu on the bottom of the screen.
Step 3
Follow the on-screen prompts to remove the program from the computer.
Photo Credits
John Howard/Photodisc/Getty Images