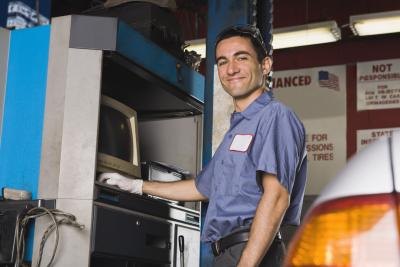 by Contributing Writer

Although it may appear that with each new day something electronic replaces a task previously performed by a person, there are still live people required to maintain those electronics. Information technology professionals earned median annual wages above the six figure mark according to the Bureau of Labor Statistics' May 2010 salary survey. The BLS notes the profession as one that it expects to see continue to grow through 2020, comparing favorably to several others in similar fields.
Growing Field
Although the Bureau of Labor Statistics states that the 2010 through 2020 projected job outlook for the information technology field is "about as fast as average," the BLS notes that professionals in this field should expect a favorable outlook. Anticipated for the decade is a projected employment growth rate of 18 percent, adding approximately 55,800 jobs over the course of the ten years, taking the field from 307,900 in 2010 to 363,700 in 2020. The BLS expects a shift in where information technology workers are employed -- a 12.4 percent drop in employment in the electric power generation field, for example, but a 21.6 percent rise in wood product manufacturing. More information technology professionals will also be added to the plastics and rubber products manufacturing field, a change of 15.8 percent, and the furniture and related product manufacturing field, an increase of 10.4 percent.
Growth Factors
Information technology professionals may find themselves in demand as more processes are performed online and with computers. Workers in this field may also find themselves acting more as bouncers, sleuths and battlers, waging wars against what the BLS calls "cyber threats," which it expects to see increase. IT workers are in a position to enjoy the ripple effect – as more occupations employ information technology, the people who understand and harness that technology find more work in their field.
Considerations
The outlook for the information technology field isn't entirely rosy. The BLS cites outsourcing as one issue workers face, as well as competition from within the country's boundaries. IT professionals may be laid off and replaced with younger workers with less experience and lower salaries. Because the IT field is ever-evolving, IT workers who do not keep up with the latest trends in technology and machinery will be left behind and find themselves having trouble being part of that 18 percent rise in growth rate. The BLS also noted that 24 percent of IT workers put in overtime to make their six figure salaries, working at least 50 hours each week. To land their positions, the majority of IT workers complete a minimum of a bachelor's degree, although a master's in the field may be required to move up or reach certain salary levels.
Field Comparisons
The information technology field's outlook compared favorably to that of computer hardware engineers. The BLS projects just a 9 percent growth rate and addition of just 6,300 new jobs during the same decade. The BLS projection for the programming field is slightly higher at 12 percent and 43,700 new jobs, while the field for database administrators is expected to soar at 31 percent -- though it may be interesting to note that at 33,900 jobs expected to be added, this is still below the projection for the 55,800 new IT professional jobs. Persons interested in the computer field may want to consider a career as a computer system analyst, with a 22 percent rise in jobs, adding 120,400 to the field, although the median salary of $77,740 is much lower than the IT professional.
Photo Credits
Jupiterimages/Comstock/Getty Images