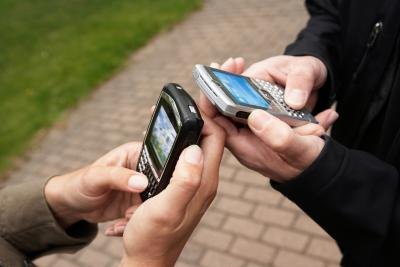 by Contributing Writer

The hash tag symbol (#) appearing in Twitter messages was not actually introduced by the company, but grew organically from its users. Essentially, it allows users to mark specific words and phrases as keywords, streamlining the search process. For Twitter followers, this makes finding tweets in certain categories and on specific topics much easier.
Categorization
The primary purpose of the Twitter hash tag is categorization for organization purposes. When a user publishes a tweet with the # symbol in front a particular word or phrase, the word or phrase becomes a link. When a follower clicks on that link, he can see all the tweets that contain the same hash tag. This gathers all similar tweets in a conversation-like form. Users can also search Twitter's search engine to find hash tags. Using these methods, anyone can join in or monitor a conversation about television shows, elections and news items. Other popular hash tags have been formed to categorize conferences, disasters, memes and quotes.
Building an Audience
For individuals or businesses using Twitter for marketing, hash tags can help target an audience. Due to the sheer mass of tweets produced daily, non-targeted messages may slip through the cracks unnoticed. By joining a hash tag group or conversation with a targeted tweet, you are more likely to find interested potential customers. For example, if you are a freelance writer, you may want to write a tweet with the hash tag #freelancewriter, so interested parties can find you more easily. Web designers may want to use #webdesigntips to target other Web designers or people interested in Web design.
Common Hash Tags
To understand the varied purposes of Twitter hash tags, it may help to see some examples. The tag #followfriday, often shortened to #ff, is a weekly tag that users append to messages containing interesting people to follow on Twitter. During the 2012 United States presidential election, #election2012 marked messages relating to the election. Job seekers can search for tags like #career, #jobposting, #jobhunt or #HR to find job postings. Fitness buffs, or those wishing to be fitness buffs, can find related tweets under #exercise, #weightloss or #fitness. These tags are not set by Twitter, but can be created by anyone for any topic.
Proper Use
Twitter hash tags are only effective when used properly. For phrases, eliminate all spaces so that the phrase registers in Twitter. For example, notice how the "Following Friday" tag mentioned above is #FollowFriday and not #Follow Friday. Hash tags are not case sensitive and can be used anywhere in the tweet. They take up some of your 140 character limit, so keep them short, if possible. Use the tags sparingly and keep them on topic -- otherwise, you risk losing instead of gaining followers.
Resources
Photo Credits
Jupiterimages/Photos.com/Getty Images