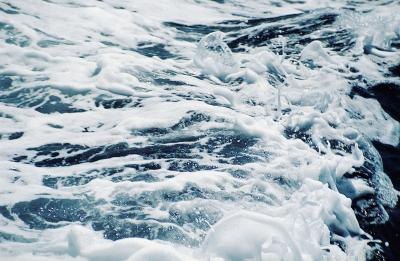 by Contributing Writer

In some parts of the world, wind and current patterns draw water from the ocean depths to the surface -- a phenomenon called upwelling. Since this deep ocean water is typically much richer in nutrients than the surface water it displaces, upwelling provides plentiful nutrients to sustain plankton growth, and some of the world's most productive fisheries are located in upwelling regions.
Coriolis Effect
Since the Earth is rotating, wind and currents that are headed due north or due south end up following a curved path rather than a straight one. In the Northern Hemisphere, winds are deflected to the right, and in the Southern Hemisphere towards the left. Major ocean surface currents end up traveling curved paths for the same reason. The surface water molecules are dragged by the wind but end up traveling at an angle with respect to the wind direction, and water molecules beneath them end up traveling at an angle with respect to the water molecules above them. this take place down to a depth of about 330 feet. This phenomenon is called an Ekman spiral. The end result of this is that surface currents, rather than transporting water the same way as the wind, actually transport water in a direction at right angles to the wind direction.
Coastal Regions
When strong winds blow steadily along a coastline parallel to the shore, they eventually create a surface current transporting water away from the shoreline. The water flowing away from the shoreline must be replaced by water from below, so deep ocean water flows up to the surface to replace the outward-bound surface water. The result is the most common kind of upwelling -- coastal upwelling. The two most prominent examples are along the California coast and the eastern coast of South America.
Downwelling
In order for coastal upwelling to occur, water must flow away from the shoreline. Winds blowing south along the west coast of a continent in the Northern Hemisphere or north along the west coast of a continent in the Southern Hemisphere, water is transported away from the shore and upwelling can occur. Reversing these wind directions will transport water toward the shoreline and create downwelling, a situation where surface water flows downward and forces deep ocean water out away from the shoreline.
Equatorial Upwelling
The other kind of upwelling is equatorial upwelling, where winds blowing along the equator cause water to flow away from the equator toward the north and south, bringing water from the deep up to the surface. Just as with coastal upwelling, this is biologically important because deeper water tends to be richer in nutrients than the surface water. These nutrients fuel the growth of plankton, which in turn directly or indirectly sustains marine wildlife.
Resources
Photo Credits
Polka Dot Images/Polka Dot/Getty Images