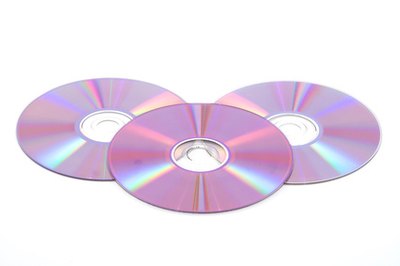 by Contributing Writer

Windows audio-video files stored on a computer with a Microsoft operating system and DVD burner can be transferred to disc using software that is probably already installed on the system. Computers equipped with a DVD burner and Microsoft software come with a program for managing the DVD burner. On most Windows platforms, the software is called Windows DVD Maker. Any software used to manage the DVD burner can be used to convert audio-media files to a disc.
Step 1
Open the computer's media tray, insert a recordable DVD and close the tray.
Step 2
Open the software that manages the DVD burner by double-clicking the name of the program. For example, Windows DVD Maker. A complete list of all programs on the PC can be found by clicking the "Start" or Microsoft flag icon in the lower left-hand corner of the screen and selecting "All programs."
Step 3
Click the "File" button in the upper left-hand corner and select "New" to start a new recording project.
Step 4
Click "Add Items" to populate the recording list with audio-video files on the computer. Use the mouse to scroll through folders on the computer to locate the desired audio-video files. Click the file and then click the "Add" button in the lower right-hand corner of the screen.
Step 5
Click the "Next" button, then choose recording options and menu styles from the new window that will open.
Step 6
Click the "Burn" button in the lower right-hand corner to create a DVD of the selected media files.
Warning
Wait for the disc to finalize, which encodes the DVD for playback on other devices, before removing it from the Windows computer.