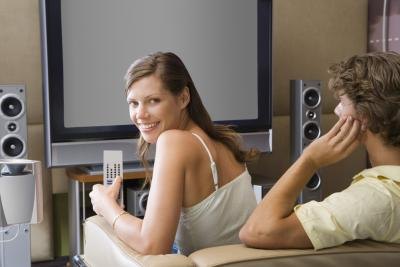 by Contributing Writer
Millions of people routinely purchase and store digital music on their computers using programs like iTunes. This permits quick and easy access to music on numerous mobile devices; but if you want to enjoy your music over a surround sound system or another fixed stereo system, you'll generally have to fumble with wires and cables. Fortunately, a number of wireless audio devices are available that can interface with your computer and stream audio to your sound system. The minor details vary, but all of the devices are installed in essentially the same way.
Step 1
Purchase a wireless audio system. Various products are available from suppliers such as Aperion Audio, RAM Electronics, Hewlett-Packard and Cisco.
Step 2
Connect the wireless receiver to your home audio system. Depending on the device and your audio gear, you may have several options, including composite sound and HDMI. After the hookup is complete, you'll probably have to plug the receiver into a power outlet.
Step 3
Install any software included with the wireless receiver to your computer. This may include drivers and other software to enable streaming.
Step 4
Connect the sending device to your computer; typically, this is a USB dongle compatible with any computer that has a USB 2.0 port, but your device may have a different configuration.
Step 5
Power on your computer and home audio system. If you need to run software, launch the program; otherwise, tune the audio system to the appropriate input channel for the receiver and begin playing music. The music should stream wirelessly to your audio system.
Warning
Research the hardware that you intend to buy before spending money to ensure that it is compatible with your computer.
Photo Credits
Polka Dot Images/Polka Dot/Getty Images