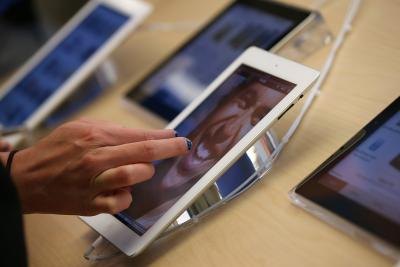 by Contributing Writer

With in-plane switching, which gives the viewer a bright picture from any angle, LED screens and Retina display technology, Apple's iPad tablets have offered progressive screen technology since the first generation iPad launched in 2010. The current iPad with Retina display, iPad Mini and older iPad iterations offer screen resolutions and screen sizes that make a difference in the overall quality of the display -- even though the high quality of the displays and true-to-life images they display might make it hard for you to tell the difference.
iPad With Retina Display
The fourth-generation iPad, or iPad with Retina display, crams 3 million pixels into its 9.7-inch display. The touch-screen display supports a 2048-by-1536 resolution at 264 pixels per inch. The Retina display's resolution can be best observed with photographs with a high pixel density, as many videos are not able to fully utilize the resolution this iPad supports. This iPad includes in-plane switching technology, giving a truer color representation compared to non-IPS screens.
iPad Mini
The iPad Mini's resolution pales in comparison to the iPad 4, but its 7.9-inch display can take great advantage of its 1024-by-768-pixel resolution and 163 ppi because of the smaller screen. Compared iPad 2, the iPad Mini features the same screen resolution, but a higher ppi. The Pad Mini utilizes IPS technology for truer colors compared to non-IPS screens.
iPad 2
The iPad 2 and its 1024-by-768-pixel resolution matches the iPad Mini, but it comes in with a slightly lower 132 ppi compared to the Mini's 163 ppi. These resolutions can't compete with the iPad 4 resolution, even though both devices feature a 9.7-inch screen. Like the iPad Mini and iPad 4, this iPad includes IPS technology.
Other iPads
The first-generation iPad is no longer being manufactured, but is still a relevant tablet with a 9.7-inch display that supports 1024-by-768-pixel resolution. Like the original iPad, the iPad 3 is no longer being manufactured, but refurbished models are still in circulation. This iPad supports Retina display technology with 264 ppi and 2048-by-1536-pixel resolution.
Resources
Photo Credits
Justin Sullivan/Getty Images News/Getty Images