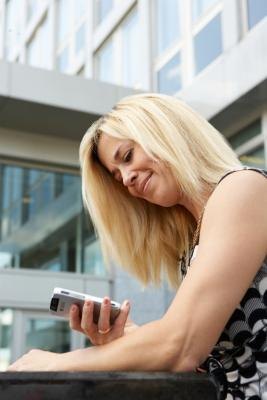 by Contributing Writer

Google's Android operating system for smartphones includes the ability to download small applications directly to the device. Adobe's Flash Player app is available for some versions of the operating system, and it operates much as it does when used on a PC. The Flash Player may have performance limitations depending on the technical specifications of the phone.
Requirements
Flash works only on Android phones running version 2.2 of the operating system or newer. To check your phone's version, open the "Settings" icon. Tap "About Phone" and scroll down to "Android version" to see the version that's running. Some phone service providers offer occasional over-the-air updates to Android devices to newer versions of the operating system.
Access
On compatible phones, Flash Player is available as a free download from the Android Market. Open the Market app and search for "Flash Player" to find the software. Tap the "Install Free" button to download the player. The phone needs an active Internet connection to access the Market. The player will appear for management in the "Applications" section of the phone's settings, though not in the Applications screen.
Use
Once installed, the Flash Player works as a part of the phone's browser application. Simply navigate to a website with Flash content to use the player. The player supports numerous features unique to the Android version, including optimized full-screen mode, SWF Focus Mode for ease of interface and an adaptive frame rate for better performance. The Android Flash Player does not work outside the system's built-in browser.
Limitations
Since many Flash applications and websites were developed with PC users in mind, some Flash content may not display correctly on an Android phone. For games that require keyboard input, some users will be limited to the Android onscreen touch keyboard. Resource-intensive Flash files may run slowly on less-powerful devices.
Photo Credits
Jupiterimages/Photos.com/Getty Images