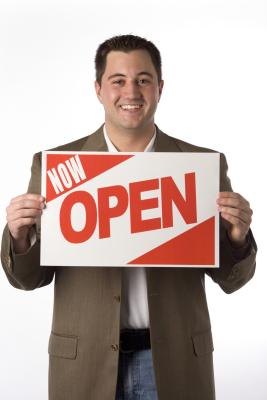 by Contributing Writer

Whether you're ready to introduce the world to your hand-crafted sock puppets, unload a childhood collection of baseball cards or turn a hobby into a way to make a living, eBay's seller stores may be the ideal option. eBay requires very little to get started as a storefront seller -- just a seller account and PayPal account, which are both free. Although sellers will pay fees to eBay for items purchased through their stores, the positives of vending on the world's largest auction site may outweigh those charges.
Price Gaging, Not Gouging
Your eBay storefront enables you to be fully in charge of what you're selling, and that includes pricing your items. Unlike brick-and-mortar stores or large online retailers, you have the opportunity to adjust the pricing of your auctions and Buy It Now items at any time or for any reason. For an upcoming Easter sale, for example, you can quickly mark down all of your pastel fabric instead of trolling through aisles or floors of materials with a price gun in hand. You also get to become your own advocate. If you're losing sales to other eBay sellers who start to drop prices, it's up to you whether you want to take the financial hit to compete or if you keep your prices on a fair playing field.
Small Supply, Big Reach
Many eBay store owners can't compete with big box stores simply because big box stores have acres of space in which to sell their goods. But with eBay stores, those sellers don't need that kind of space. In fact, with an eBay storefront, you don't even have to have the items on hand that you're selling, since customers aren't coming in to browse and touch. You can sell hundreds or thousands of things in your eBay storefront and keep them stored elsewhere. You're also able to do something those big box stores can't – reach customers from miles, states and countries away. Someone across the nation, for example, can simply click onto your eBay storefront and shop. As soon as you drop your package in the mail to them, you've successfully sold to a customer who could never buy from you in person.
Variety is the Spice
An old proverb notes that "Variety is the spice of life." eBay sellers know this, and some take advantage of it to further the success of their stores. In a brick-and-mortar store, or even an online retailer known for one specific thing, only specific items are allowed. You wouldn't find hiking gear in a candle store, for example. But your eBay store has no such restrictions. Some sellers treat their stores like virtual yard sales, with a little bit of everything they find. It's not a requirement to have your storefront offer a little something for every shopper, but it may be reassuring to know that if you ever stumble across something to sell, you can.
Your Hours are Your Hours
The Internet has afforded a 24-hour shopping experience for even the most insomniac of buyers. After setting your shop up on eBay, it's basically open and working for you – without requiring employee training, salary or insurance – even when you're not. Anyone on eBay can click into your store and make purchases at any time of the day or night, and you can be spending time doing what you want to be doing instead of manning a cash register.
References
Photo Credits
Creatas/Creatas/Getty Images