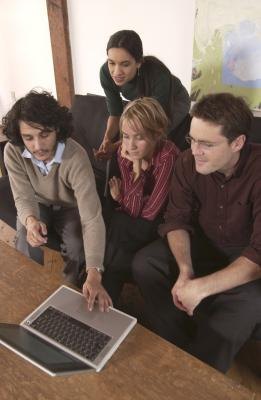 by Contributing Writer

Add compelling content that people enjoy to your YouTube channel and they may subscribe to it by tapping or clicking the channel's "Subscribe" button. Another way to get subscribers is to embed a link in one of your videos that takes viewers directly to a page that enables to subscribe to your channel. You can do this by learning how create an annotation and embed it in a video you have uploaded.
Step 1
Log in to your YouTube account and tap or click the arrow next to your username on the home page. Tap or click "Video Manager" and then tap or click the "Edit" link below the name of the video to which you'd like to add a subscription link.
Step 2
Tap or click "Annotations" to open the Annotations panel. A video player displaying your video appears to the left of that panel. You will also see a horizontal bar below the player that has a white button on it. This is the progress bar that you normally see when you play a video.
Step 3
Tap or click the white button and drag it to the right. As you do, the player displays your video and moves it forward in time. For instance, if you drag the button to the end of the bar, you'll see the last part of your video. If you move the button to the beginning of the bar, the player shows you the beginning of the video.
Step 4
Drag the button to the location in the video where you want your Subscribe link to appear as the video plays. For example, if you'd like for it to appear halfway through the video, drag the button to the middle of the bar.
Step 5
Tap or click "Add Annotations." Tap or click the "Label" type "Subscribe" in the "Label" text box. Put a check mark in the "Link" check box and type your YouTube username in the "Paste a Link to a Video" text box. When you do that, YouTube generates the correct URL it needs to link to your subscription page.
Step 6
Tap or click the "Video" drop-down menu and select "Subscribe." Type your YouTube username in the "Enter a YouTube User Name to Subscribe to" text box. Tap or click "Publish" to save your changes.
Tip
When people watch your video, your Subscribe link appears at the location in the video where you set it. If they click the link, a confirmation dialog box opens and enables them to tap or click "Subscribe" to subscribe to your channel.

By default, the Subscribe link appears onscreen for five seconds. Therefore, it's wise to place your link at least five seconds before your video ends if you want viewers to see the link for the full five seconds.

In this example, you type "Subscribe" in the Label text box. You can change that text to anything you like. For example, you could type "Subscribe to my channel" instead of "Subscribe."
Resources
Photo Credits
Jupiterimages/Photos.com/Getty Images