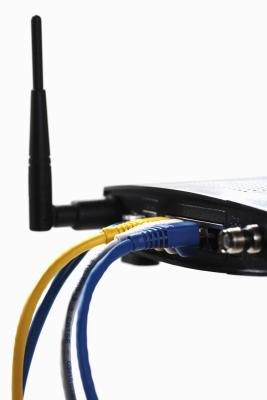 by Contributing Writer

The Comcast communication company offers phone, television and Internet service to millions of users throughout the United States. In addition to its high-speed DSL broadband service, you can also subscribe to its wireless package, which allows you to connect to the Internet wirelessly through a Comcast wireless router. If you already have an existing Comcast Internet connection, setting up a wireless connection takes only a matter of minutes.
Step 1
Purchase a wireless router from your local electronic store or online electronic retailer.
Step 2
Insert one end of the Ethernet cable into the Ethernet port on the back of your Comcast modem and the other end of the Ethernet cable into the "WAN" port on the wireless router.
Step 3
Connect the power cable on the wireless router and turn on the router. Wait for a few seconds for your Comcast modem and wireless router to establish an Internet connection.
Step 4
Turn on the wireless capability on your laptop or desktop computer and wait a few seconds for your computer to detect the wireless signal from your router.
Photo Credits
Thomas Northcut/Photodisc/Getty Images